With this update, we are excited to release a host of new features aimed at making your Truelytics experience more personalized, user friendly, faster, and insightful - and we have fixed a few bugs along the way! Read on for more detail:
Database Migration
We have migrated completely off of our legacy Mongo database and moved completely over to SQL. This will result in improved performance, enhanced protection, better benchmarking and business intelligence and accelerated development cycles.
Enterprise White Label
Truelytics continues to embrace a business model based on helping broker dealers, custodians and RIAs improve their advisors' practice management capabilities and valuations. To this end, Truelytics is happy to introduce white label functionality (including offering a customized domain address and login process). Enterprises can now provide their advisors with access to the suite of Truelytics tools while maintaining their own brand experience. This brand support will function seamlessly with an enterprise's existing technology, as well as future technology as their tech-stack evolves. When combined with Truelytics single-sign-on support, the advisors will gain the benefits of the Truelytics platform within the confines of the enterprise's brand.
White label support further demonstrates Truelytics' commitment to supporting our enterprise customers, and helping them meet their growth and retention goals.
Carson Group White Label Examples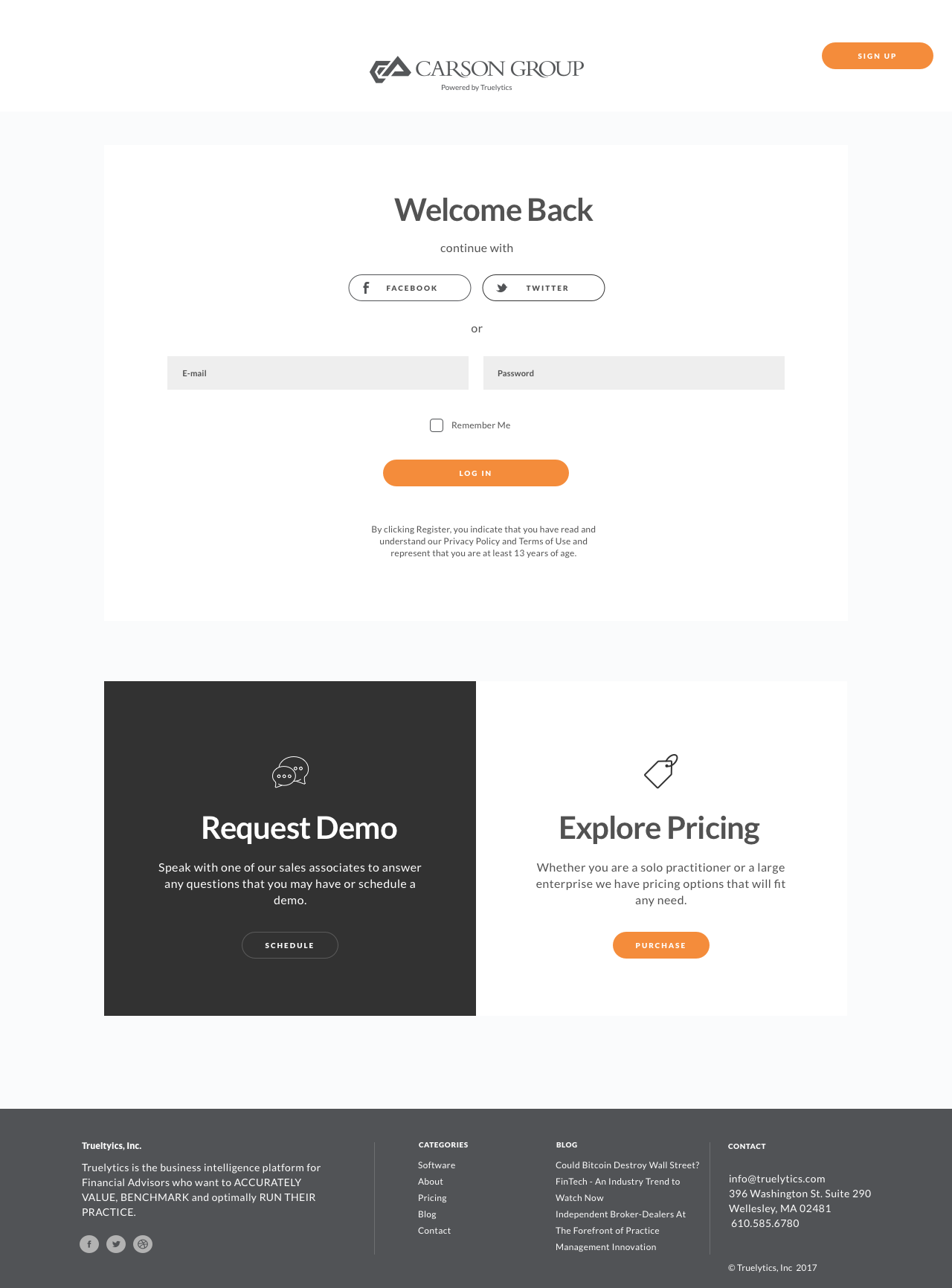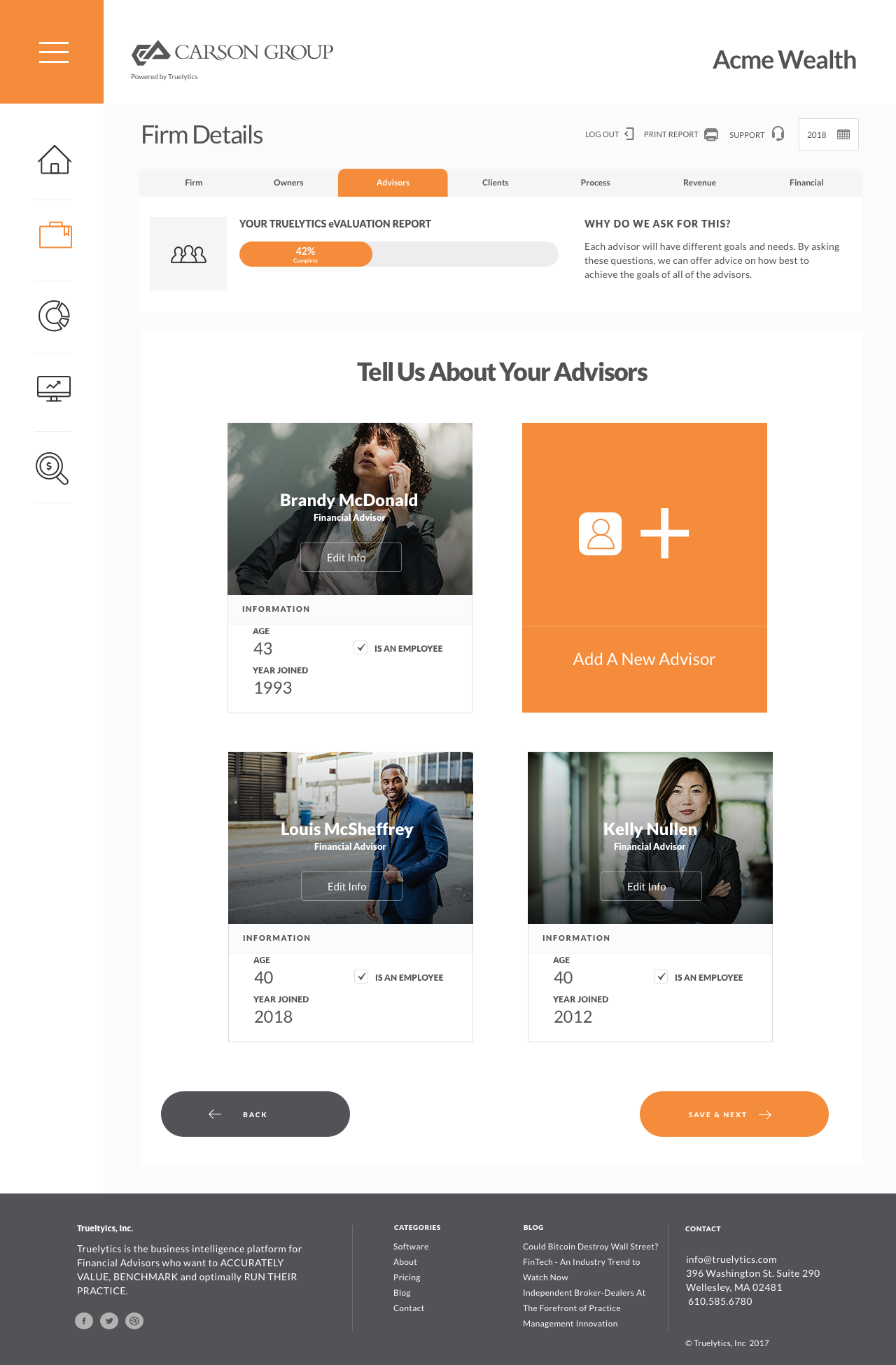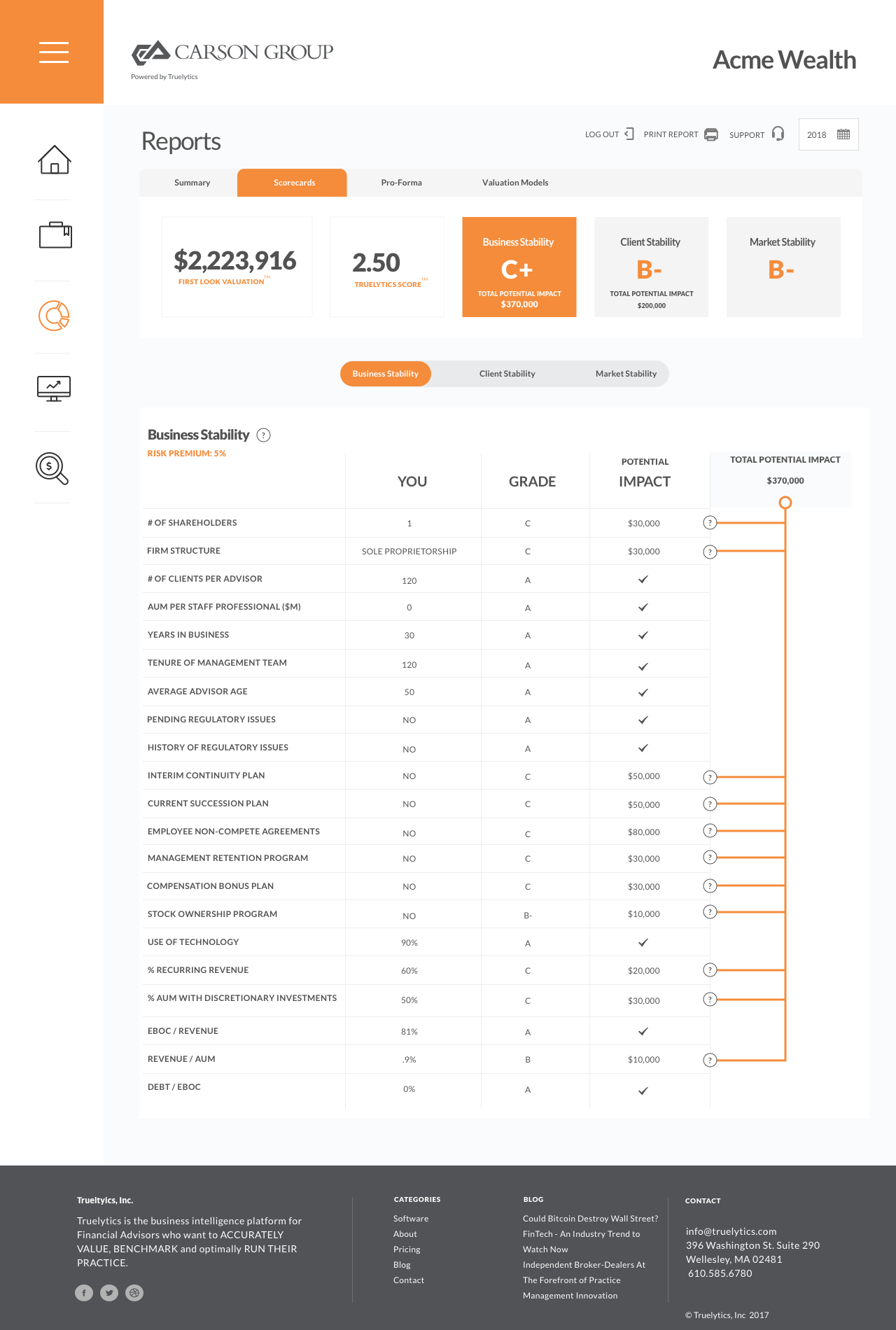 New Benchmarks: Revenue Type Comparison & Revenue Analytics
We just introduced two new dashboards in our apps benchmark section.
Revenue Type Comparison
Now you are able to compare the % breakdown of your revenue by type against your peers (+/- 25% of your AUM) and the marketplace (our entire dataset.) This includes revenue derived from:
Managed Accounts
Equities/Individual Securities
Mutual Funds/ ETFs
Fixed Income/Debt
Municipals
Commodities/Alternatives
Insurance (Commissions & Trails)
Financial Planning & Consulting
Other Services (Taxes, etc.)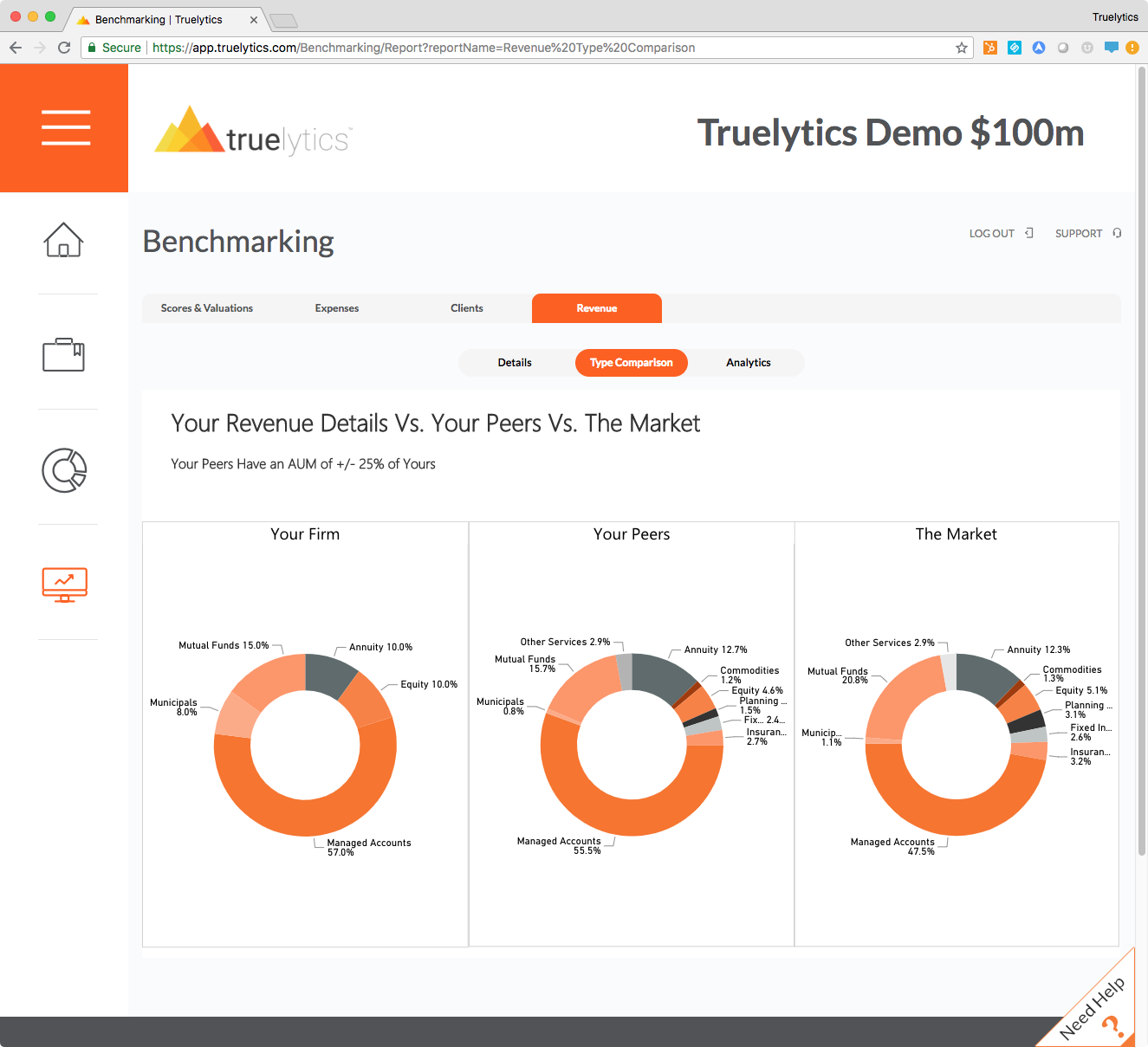 Revenue Analytics
This new dashboard allows you to analyze your revenue agains your peers and the marketplace via:
Historical Growth Rate
Revenue Per Client
AUM Per Client
Revenue as a % of AUM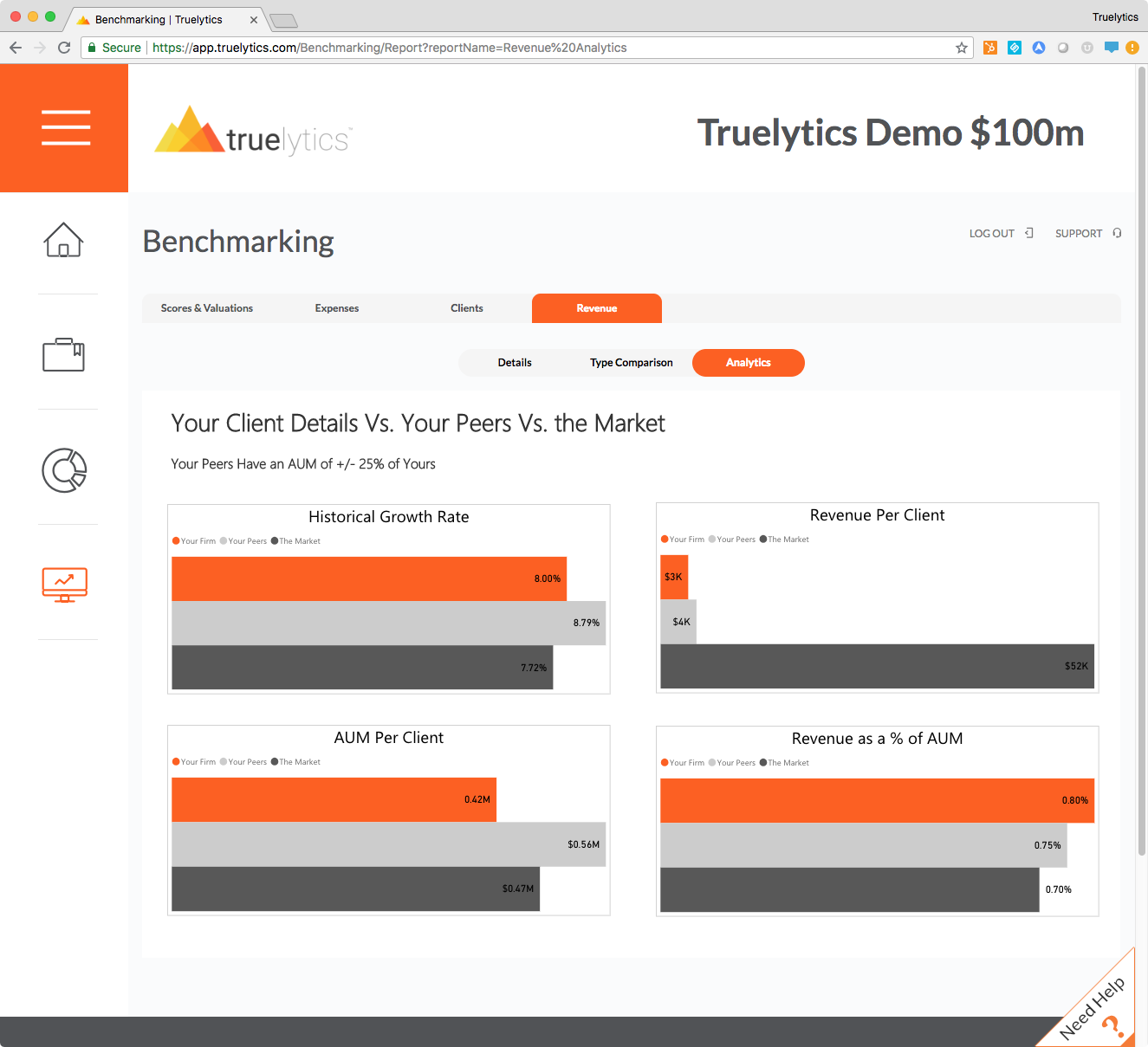 Check out our
Truelytics 2.0 release
where we massively overhauled the application's user interface and information architecture.
Sign up for a free year on Truelytics!
The above application updates are available to all Truelytics customers
with the exception of the Enterprise White Label Solution. That enhancement is only available for enterprise licenses
. If you are an individual advisor and not already a customer, you may want to
sign up for a free 360-day trial
now to see why more than 1,000 financial advisory firms trust Truelytics to help them run their practice like a business.
Use Coupon Code: TrueTrial
More articles related to: Truelytics