Nothing excites us more than to announce that we have re-introduced the Print Report feature within our app in Truelytics 2.2. That, coupled with almost a dozen other updates, makes this month's release something we could not wait to tell you about.
Print Report Functionality
Instantly print out your entire eValuation with a single click of a button. That's right, we have brought Print Functionality back and it's better than ever.

Our new report format features 17 pages of key data and insights related to your latest Truelytics eValuation. Click here for a sample report. The new report format is broken up into 4 main sections. These include:
Report Summary
The summary provides an overview of your valuation, scores, financial ratios, and components that comprise your discount factor.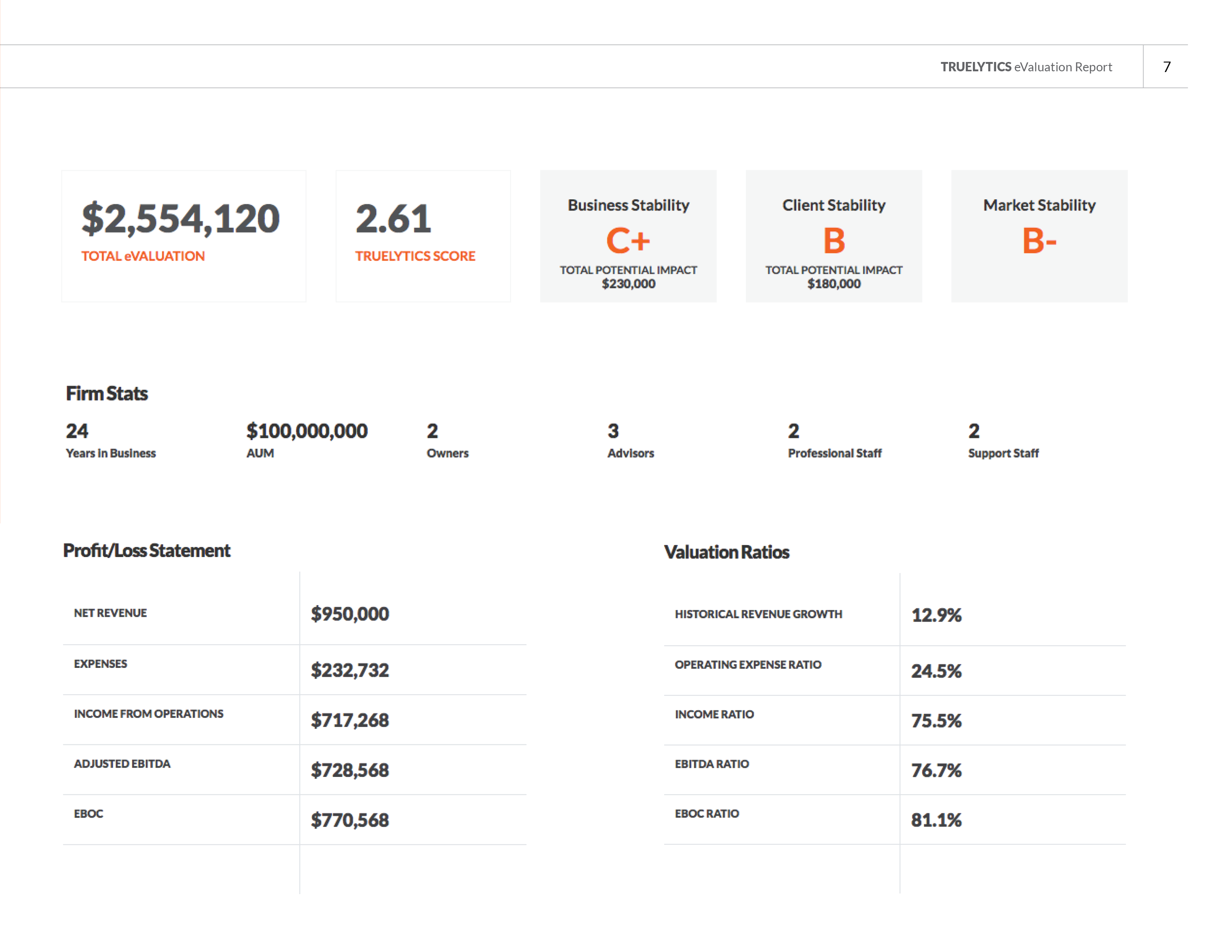 Business, Client, and Market Stability Scorecards
Business, Client, and Market Stability drive the long-term value of your business, as they reflect the viability of your firm and are an indication of the predictability of future cash flow.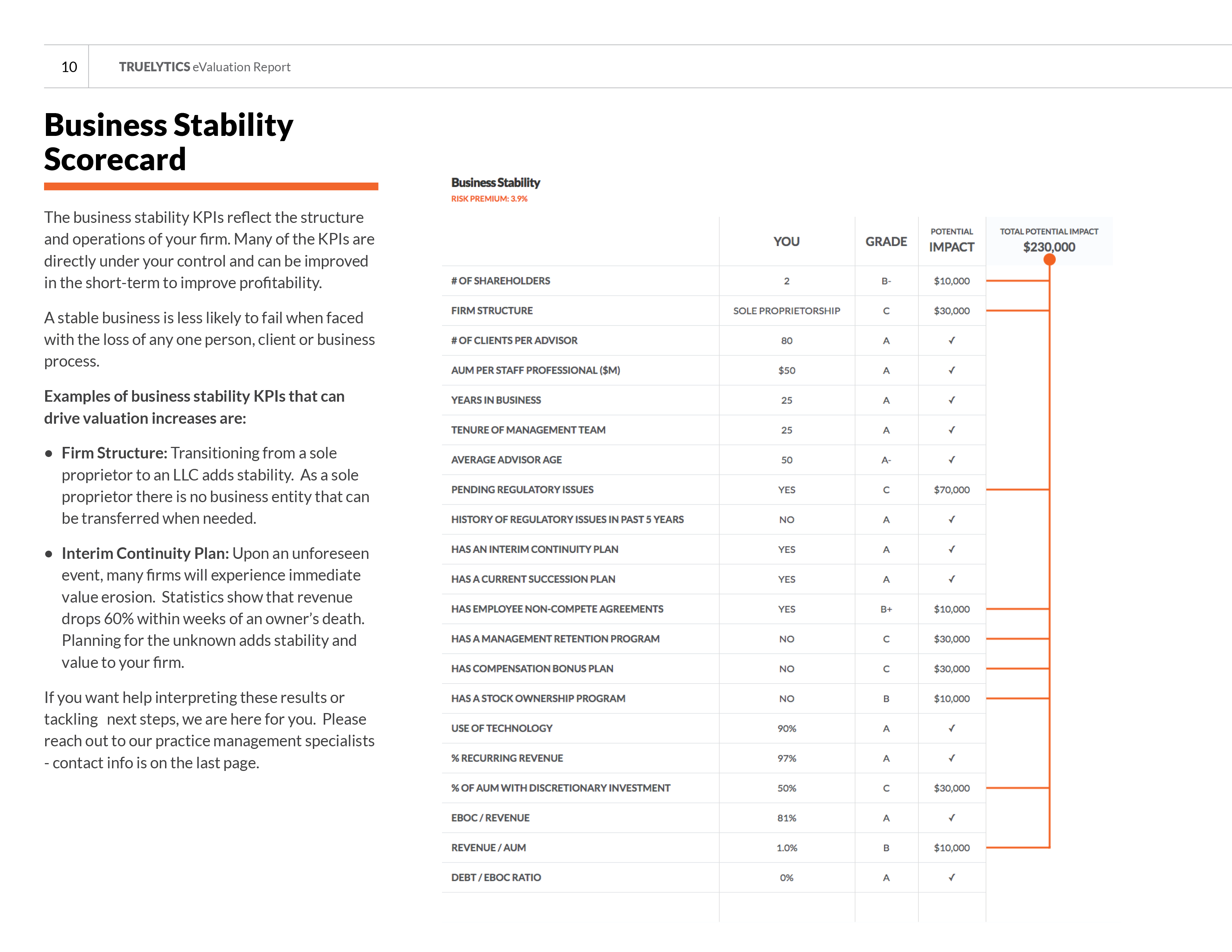 Pro-Forma
A five-year forecast of your revenue, expenses, and earnings.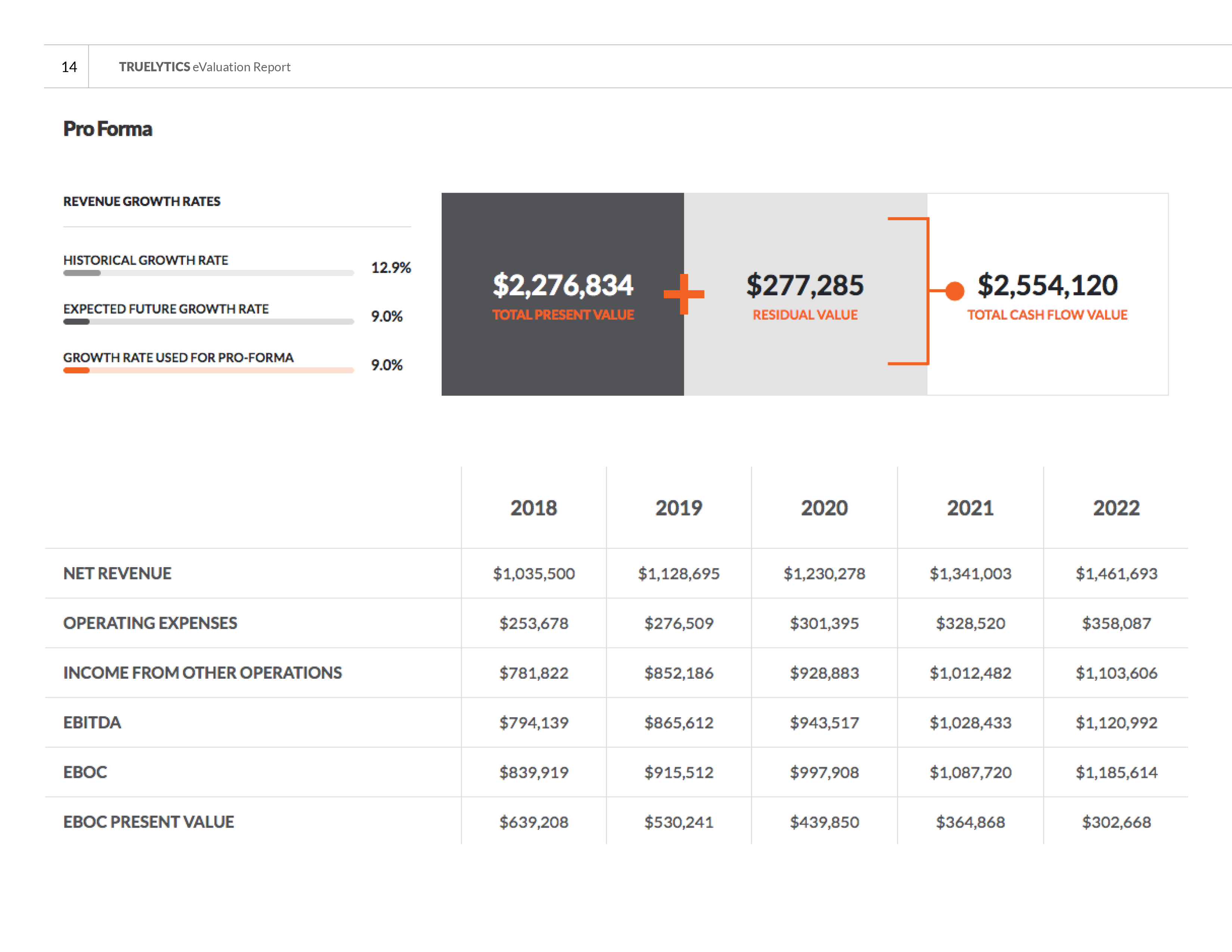 Valuation Models
Truelytics presents multiple valuation models under different scenarios. Our methodology of choice is the Discounted Cash Flow Model as this model best reflects future cash flow vs. past financial performance. We include alternative methodologies to reflect industry expectations.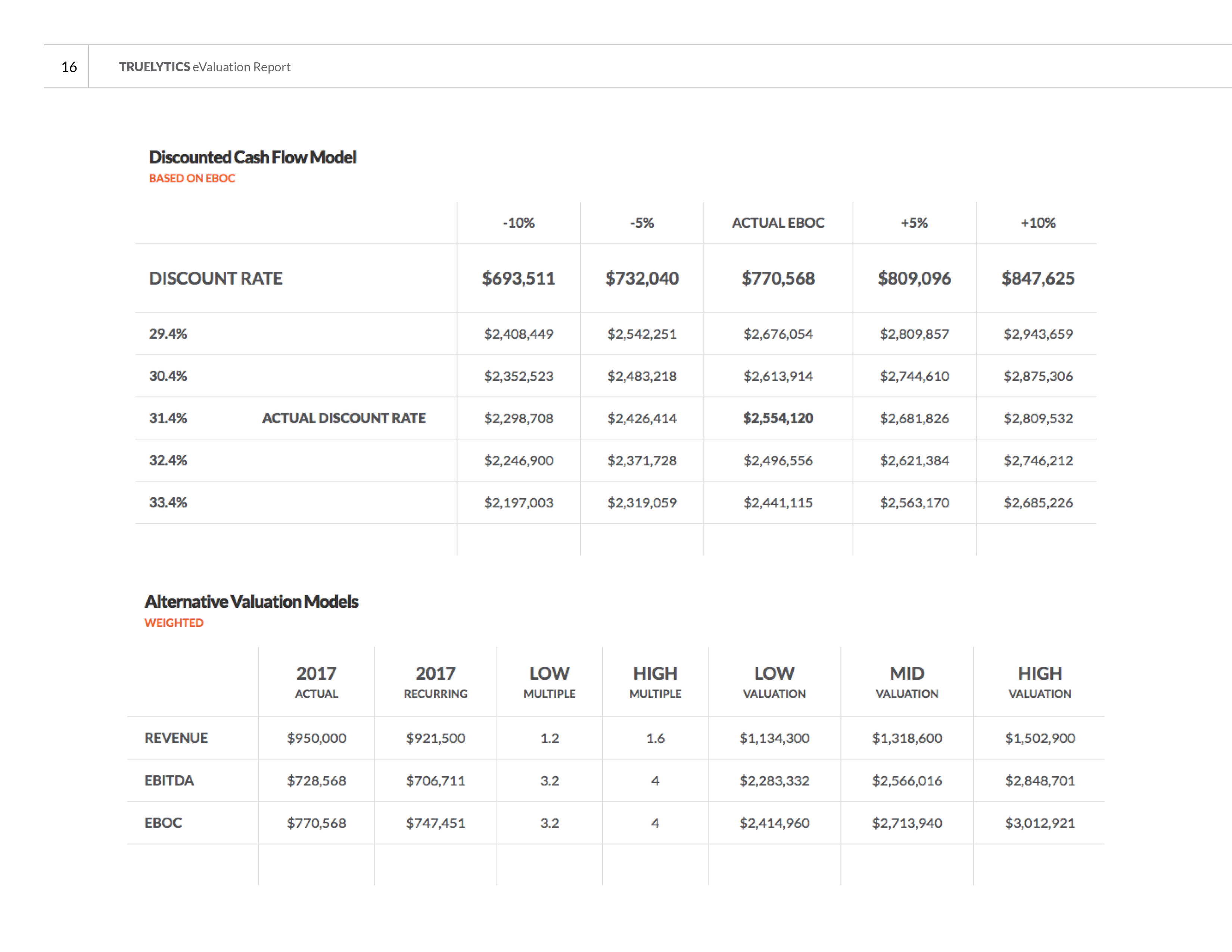 Finally, we have embedded this new report format with value-added content to help the first-time reader with context and understanding.
eValuation Survey Updates
We have made 8 updates to the survey section of our application. Notably:

Owner Card Update - Ownership Structure

Owner cards now have a "Ownership Structure" question to help indicate whether the owner is an individual or an institution.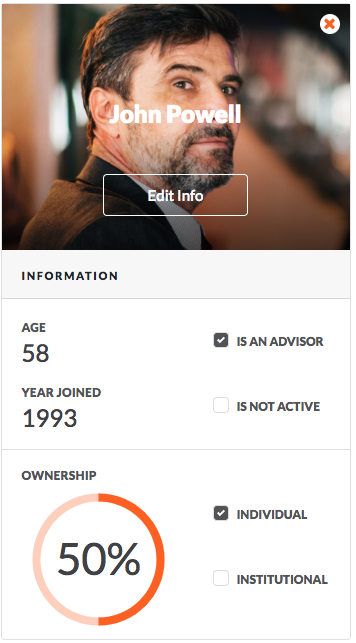 Process Section Reorganization
We re-organized the layout of the process section to include:
Organizational Processes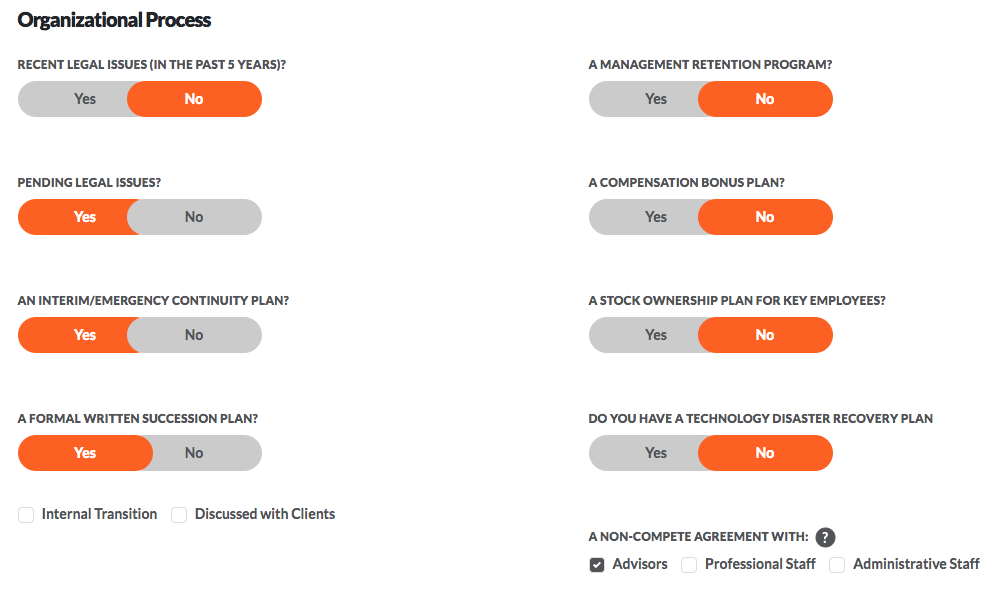 Technology Processes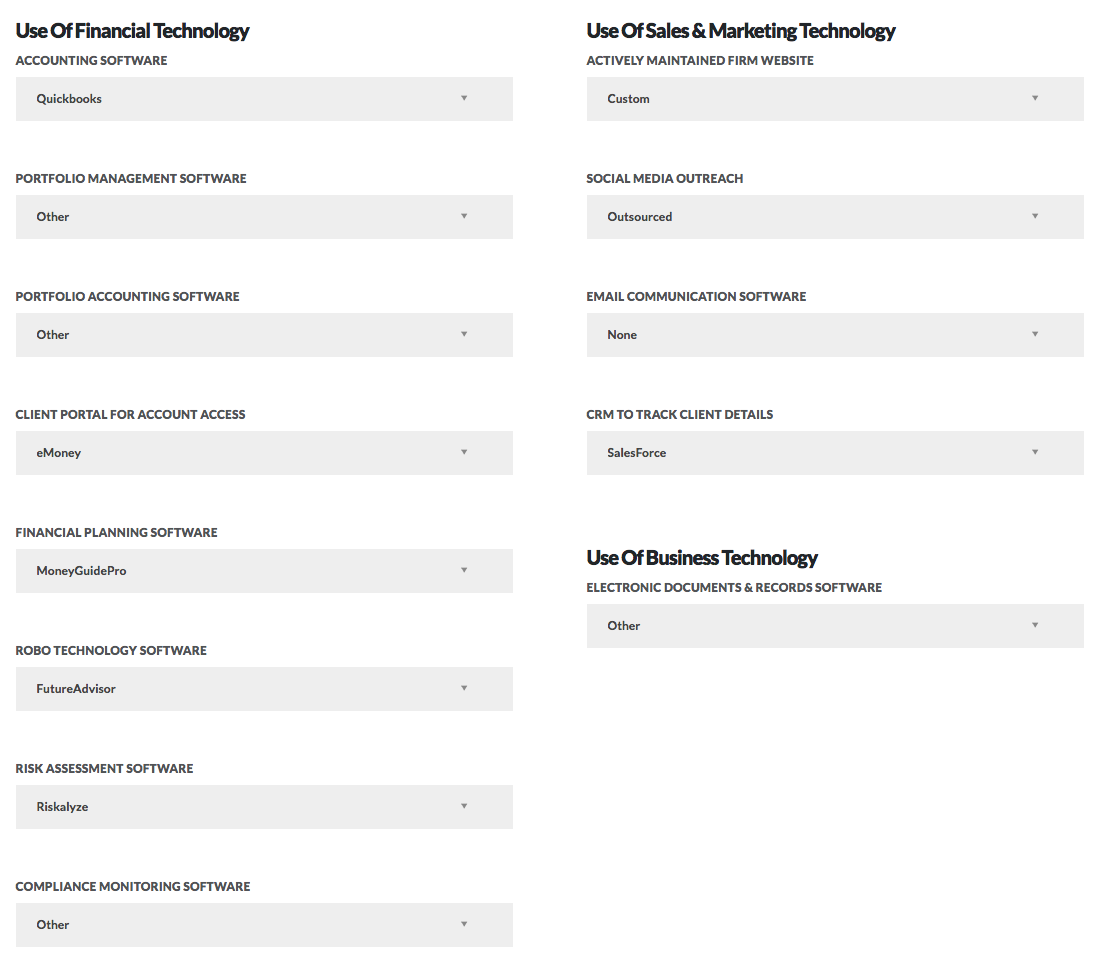 Stay tuned as this section is scheduled for even more changes, including major updates to the technology process stack and an introduction of a new process category: Investment Process.
A Formal Written Succession Plan?
We have added conditional logic to the question of whether your firm has "a formal written succession plan?" A yes answer now asks if it's internal and if it has been shared with clients.

Additional eValuation Updates:
Drop down menus have been alphabetized
Fixed the Historical Growth Rate field so that a "0" no longer creates an error
Added "LLP" to the Firm Structure drop down menu
Database Updates
With this release, we have updated our database to allow a firm to be related to multiple Wealth Management enterprises. The first enterprise to provide a firm with a license to Truelytics will be flagged as their primary relationship. Other enterprises can now be attached to the firm as secondary relationships.
On-Demand Transactional Email
A new "On-Demand" Transactional Email feature has been added to the Truelytics Administrative section that will allow our staff to create queries to identify certain types of users and forward them relevant customer service and care related communications.
Check out our previous releases:
Sign up for a free year on Truelytics!
If you are an individual advisor and not already a customer, you may want to
sign up for a free 360-day trial
now to see why more than 1,000 financial advisory firms trust Truelytics to help them run their practice like a business.
Use Coupon Code: TrueTrial
More articles related to: Truelytics