We are excited to kick off 2019 in style with Truelytics 2.5. This release is packed with new features and enhancements for both enterprise and firm users. We've launched over 20 new enterprise benchmark reports, improved customer service and enhanced overall usability, all while squashing some bugs. Dig in to learn more.
Truelytics 2.5 Quick Guide
Enterprise Benchmarks - Enterprise Users
TrueBot- Our New AI Powered Chat Bot - All Users
Enhanced Transactional Email Capability - All Users
On-boarding Enhancements - Truelytics Admin Users
Enterprise Benchmarking Reports
Enterprise Users
We've released over 20 new benchmark reports for enterprise administrators (only available to enterprise license holders.) These reports - focused on client details, revenues and expenses - are geared to provide the practice management specialists in enterprises with insights into how the firms in the enterprise are performing overall and where the outlier firms exist in each report.
QUICKLY IDENTIFY OUTLIERS
For all Client, Revenue and Expense reports, users will be able to see not only the average, medium and high/low outputs across all firms in an enterprise, but quickly identify the firms that are on the extreme high and low end of the spectrum for each report.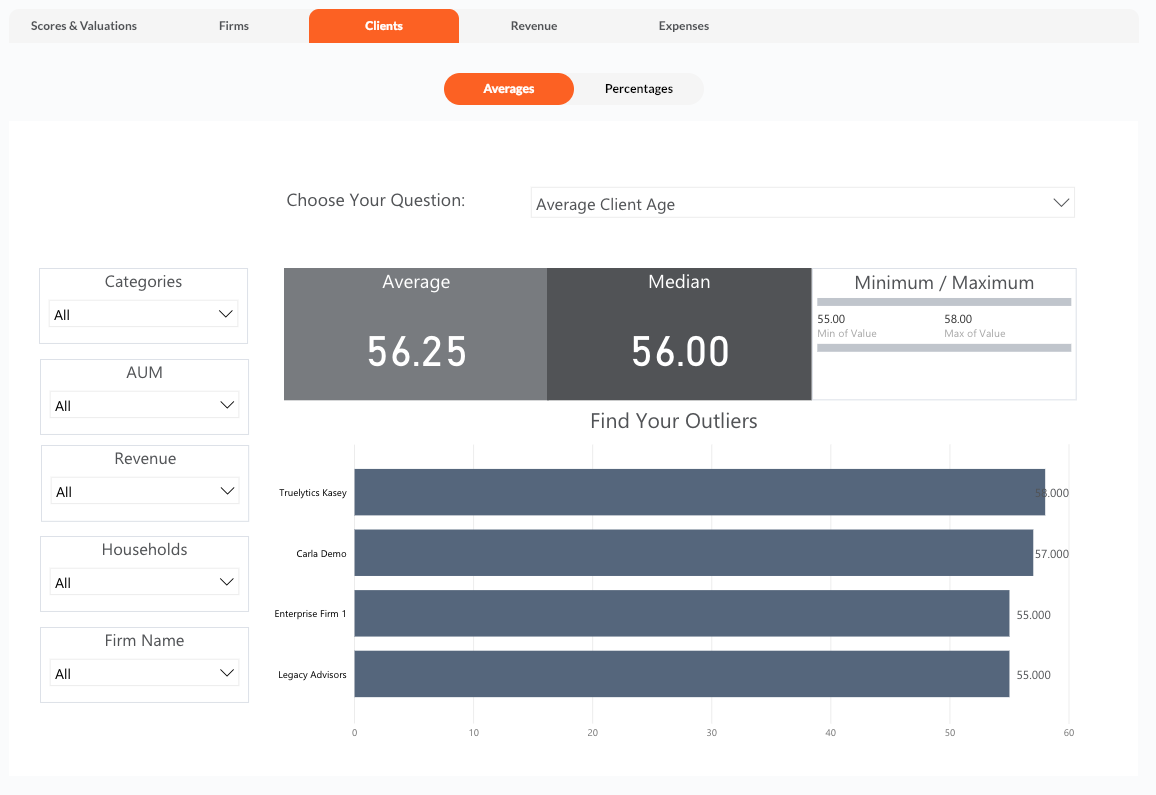 EASILY CHANGE THE QUESTION YOU'RE ASKING
Once a report is chosen, users can click on a dropdown next to where it says "Choose Your Question" to see all the additional reports in this section. Choose a different question and watch as the output instantly updates.
FILTER REPORTS TO GAIN ADDITIONAL INSIGHTS
Each report also comes with filters for Categories, AUM, Revenue, # of Households and Firm Name, which allows practice managers and enterprise executives to quickly look at a subset of the enterprise with a simple click.
Meet TrueBot!
Our New AI powered Chatbot
All Users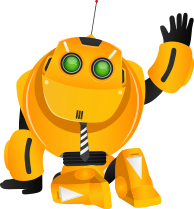 In the bottom right corner of every screen is now a link with a chat icon. One click and you will be having a chat with TrueBot.
WE'VE TRIPLED THE SIZE OF OUR KNOWLEDGE BASE - AND TRUEBOT KNOWS ALL ABOUT IT
With over 20 additional knowledge base articles published this month alone, simply ask TrueBot a question and he'll point you in the right direction. If he's unable to get you what you need, no worries. He'll connect you with our top-notch support team. Oh, and another benefit of TrueBot is he is completely integrated with our CRM, so every interaction you have with him and us will be recorded so we can provide you with an even higher level of service!!
For support related questions you may find TrueBot within our web app and on our Support Center page. To have TrueBot help you schedule a meeting with someone in the firm, you may pay him a visit on our Contact Us page.
We've Upgraded Our Transactional Emails
And Tied Them Into Our CRM
All Users
Transactional emails may not be the sexiest things in the world ('hey Truelytics, I forgot my password'), but if they don't work things really fall apart. We're excited to announce that we've migrated our transactional email system to work with our CRM and now all system emails will be recorded in our central customer record. This will allow us to provide better service, see a more holistic view of our relationship and make sure you get all your important communications.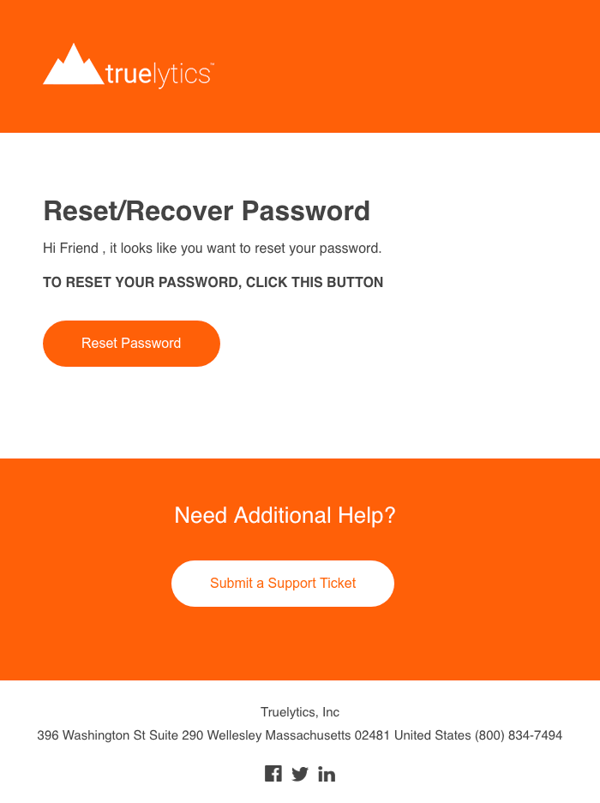 On-boarding Enhancements
Truelytics Admin Users
We've also put in place some serious muscle on the back end of our system that is going to enhance the on-boarding experience for enterprises looking to get their firms up and running on Truelytics.
ENTERPRISE > FIRM IMPORT ENHANCEMENT
First, we've significantly upgraded the bulk user import process for enterprises. The import process is now more secure, flexible, can accept virtually any data point that we ask during the eValuation process, has more checks and balances and can even import users using nothing but an internal identification number.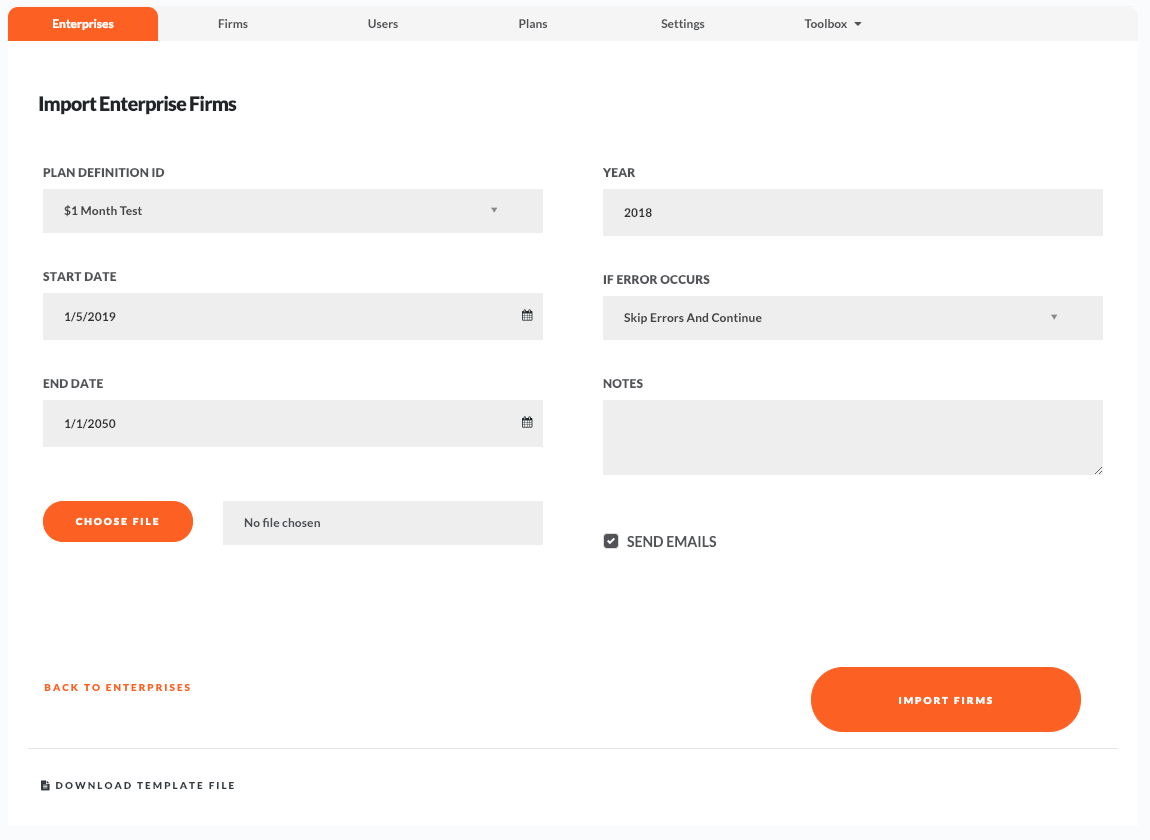 PRE-VALUATIONS


Finally, although we've been doing this for a long time, we now have the ability to create "Pre-Valuations" for all of our users, directly in the app. What is a pre-valuation you ask? It is the ability to take a few pieces of data about a firm - like AUM, Revenue and # of Households - bounce them against the largest database of advisory firm valuations in the world (hint: it's our's) and provide a remarkably accurate initial estimate of what a firm's value is, what their Truelytics scores might be and a bunch of other insights based on the average actual details of all of their peers. The Pre-Valuation is only an estimate, but it is a great way to get firm users to engage and get them moving down the path of getting their actual valuation, their KPIs, benchmarks and detailed reports.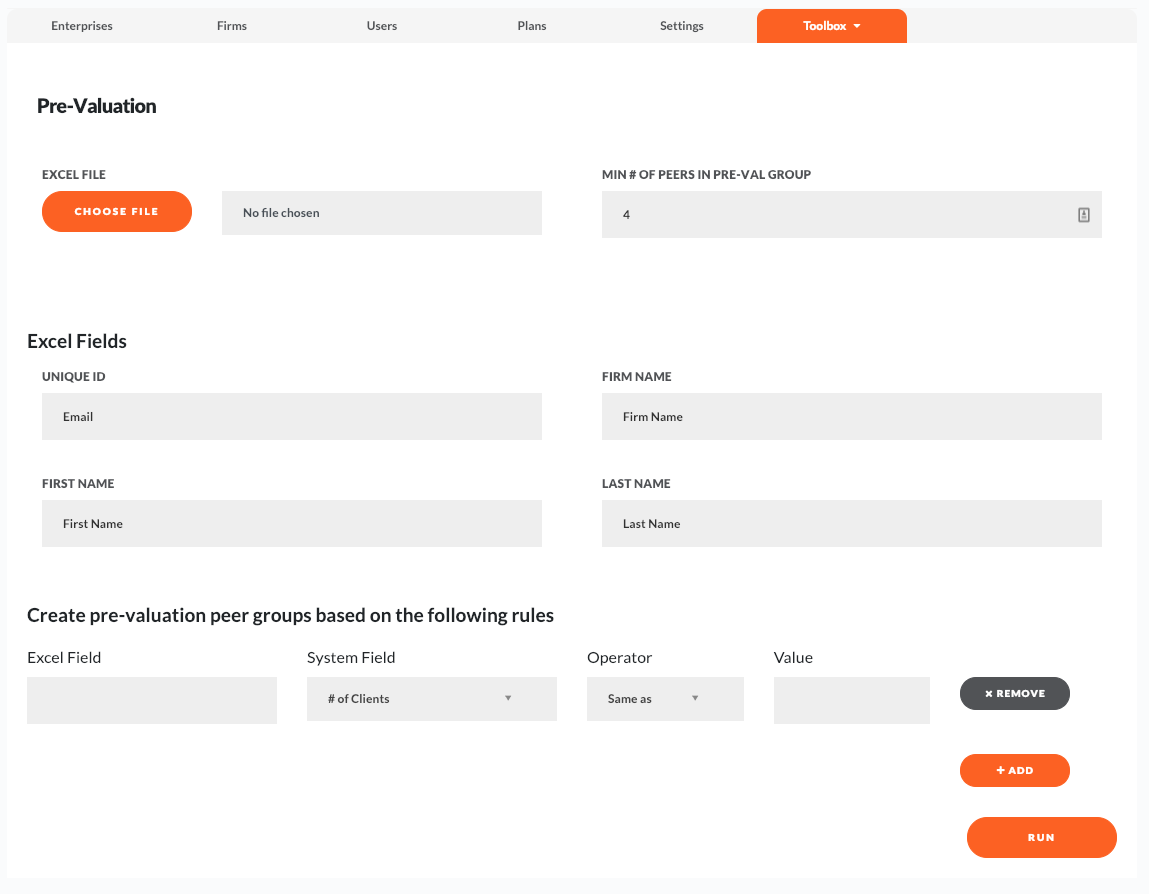 Keep your eyes open for our next upgrade announcement coming in February. And in the meantime:
Check out our previous release announcements:
More articles related to: Truelytics