Since we introduced Truelytics v2.0 last July, I do not think there has been a more anticipated release than v2.7. With the introduction of preEVAL™, we have completely re-envisioned our on-boarding process. Beyond that, we have rolled out three new homepage dashboards and corresponding overview videos within the application.
Truelytics 2.7 Quick Guide
New eValuation™ Dashboards - Firm Users
preEVAL™
Firm Users
Prior to v2.7, new subscribers would be immediately introduced to our seven step intake process. Although easy, this would require users to invest 25-30 minutes before they were able to extract business intelligence (i.e. value) out of the platform. We have changed this with preEVAL™. Now, first-time users are brought to a new on-boarding page where they are introduced to our first new in-app video (see below) and 7 simple questions that should take no more than 30 seconds to answer.
preEVAL™ Introduction Video
preEVAL™ On-Boarding Page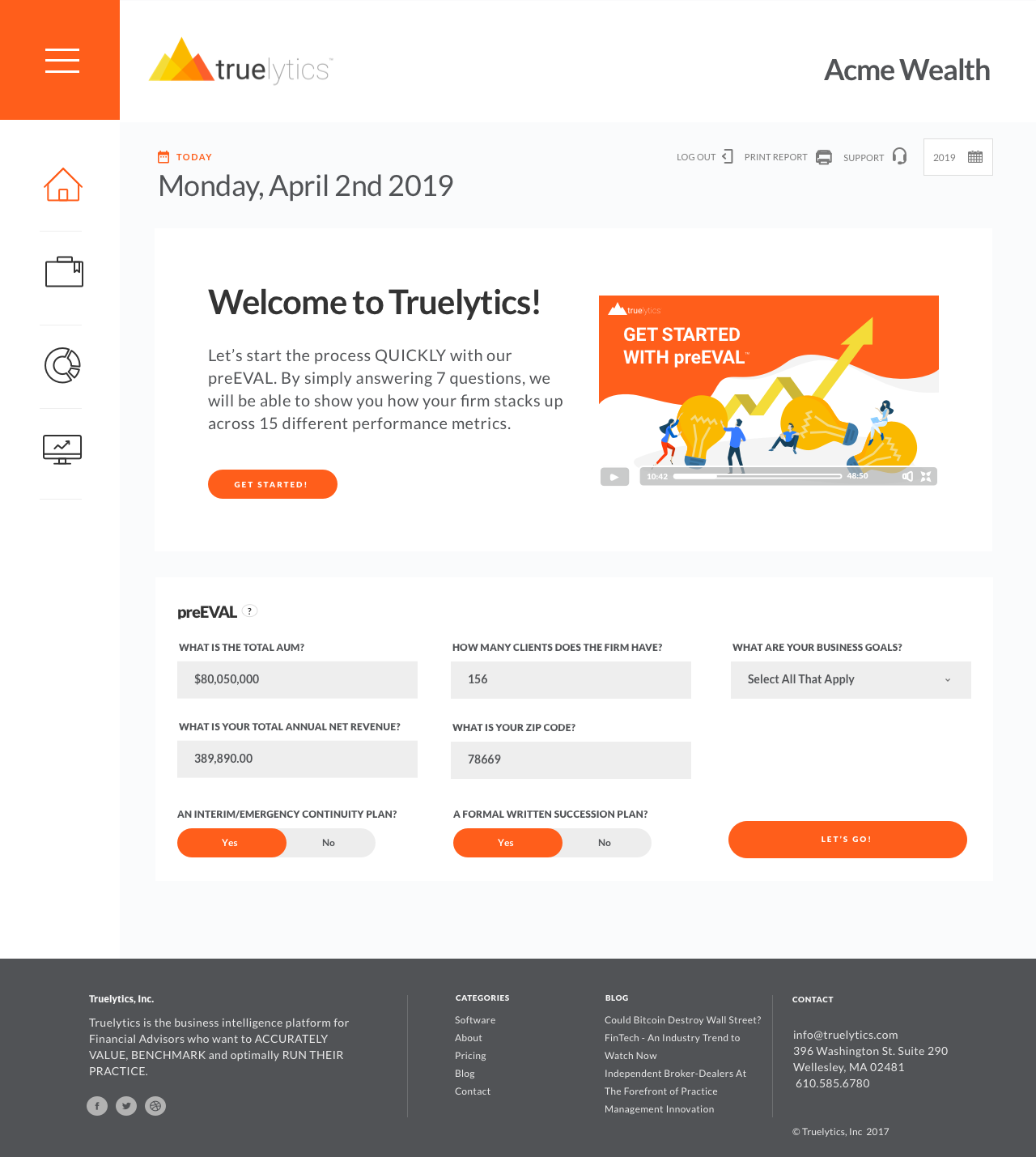 Upon answering the above questions, we are able to real-time match users with their peers in our database of thousands of independent financial advisory firms. When users are taken to our new preEVAL™ Results Dashboard, they are immediately presented with 15 calculated averages of similar firms. These include:
Truelytics Score
Business, Client, and Market Stability Grades
Business and Client Lost Value %
Growth Rate
Avg AUM, Revenue, and Expenses per Client
Avg Revenue to Expense Ratio
Avg Total Expenses
Discounted Cash Flow, Multiple of EBITDA, Multiple of EBOC, and Multiple of Revenue Valuations
preEVAL™ Results Video
In addition to the preEVAL™ Calculations described above, this new dashboard links to each section of our intake process (including a new % complete gauge.) You may notice that the #1 goal for all users on this page is to complete their eValuation™. To that end, that we have brought our new DELEGATE feature (v2.6) front and center to make it even easier for you to add additional team members and delegate the task to trusted employees.
preEVAL™ Results Dashboard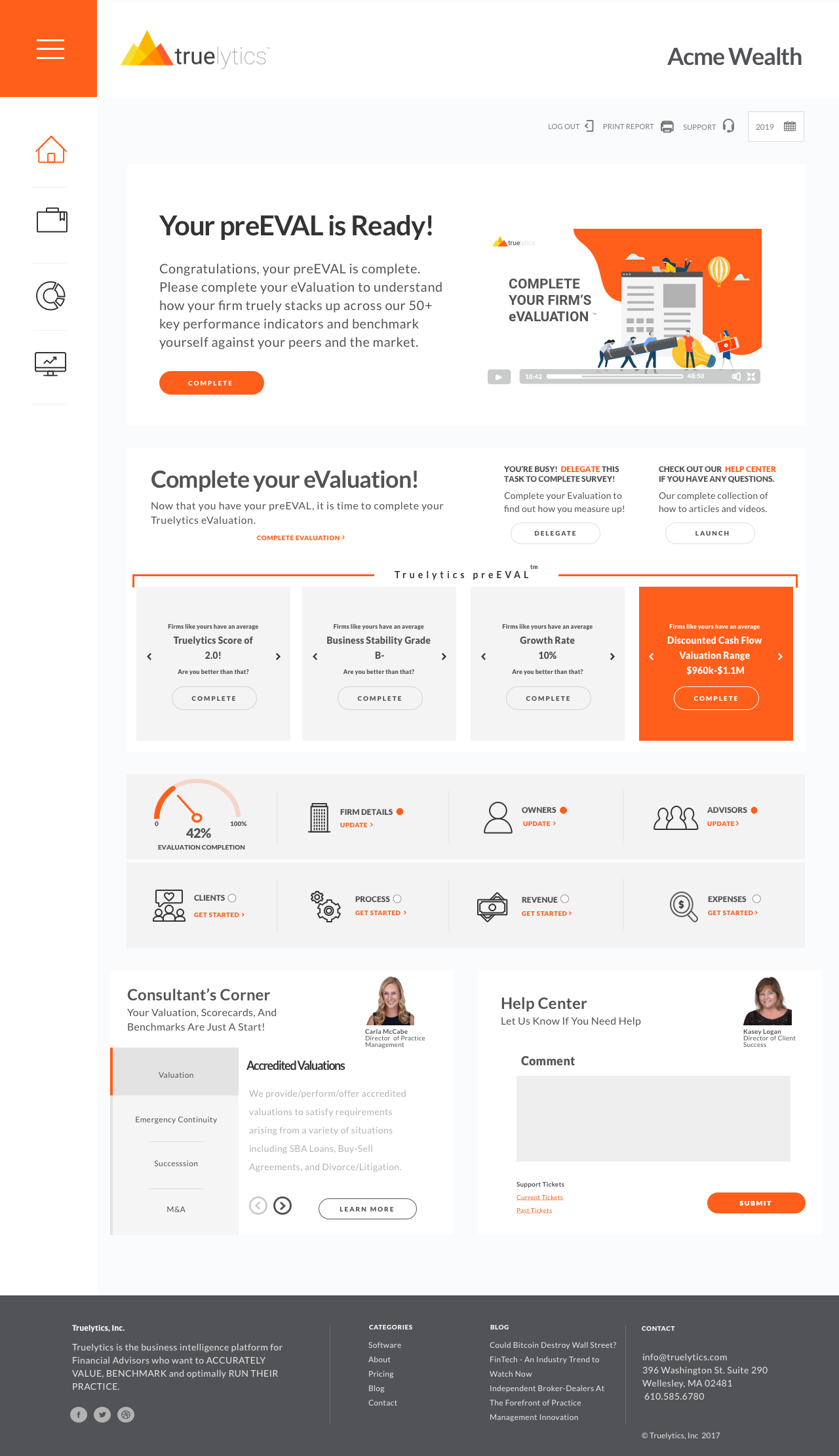 Finally, at the bottom of each of our three new dashboards, we have introduced modules titled "Consultant's Corner" and "Help Center". These offer users easy access to executives that make up our Customer Success team. Feel free to submit any interests and/or questions that you may have regarding the following topics:
Valuations
Emergency Continuity
Succession
M&A
General Truelytics Support
eValuation™ Dashboards
Firm Users
Truelytics v2.7 also introduces two new dashboards for those users who have completed the eValuation™ in-take process. The one that most people will see after they have submitted their data is our eValuation Results Dashboard.
eValuation™ Results Video
Similar to our new preEVAL™ Results Dashboard, this offers four widgets that allow you to quickly scroll through high-level calculations and links to each of the specific reports related to your eValuation™.
eValuation™ Results Dashboard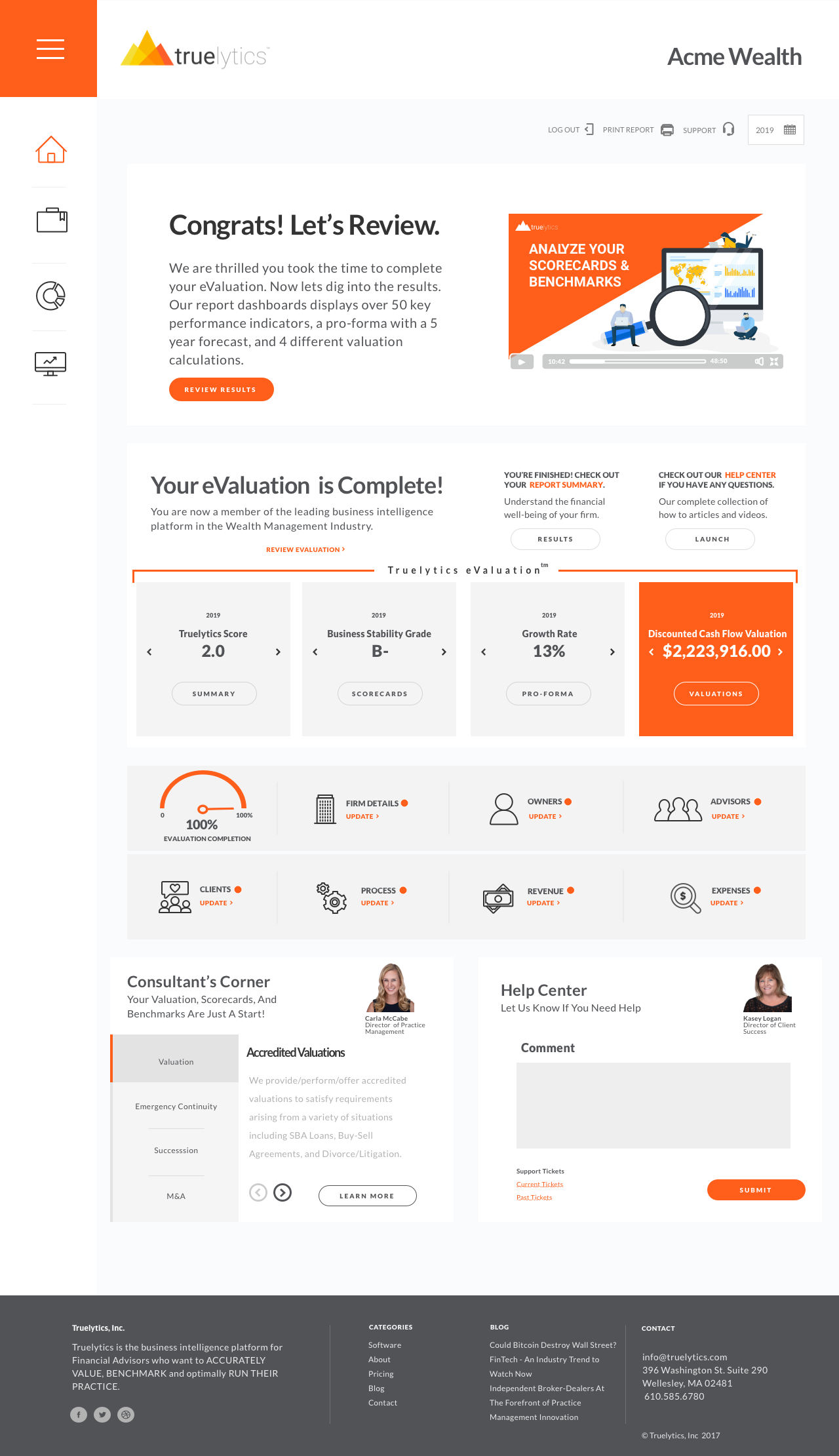 At the start of each new fiscal year, subscribers will experience our third and final dashboard. We call this our New Year! New You! eValuation™ Dashboard and it will show your previous year's results until you update your eValuation™ (which will now show the current year as 0% complete.)
New Year! New You! eValuation™ Dashboard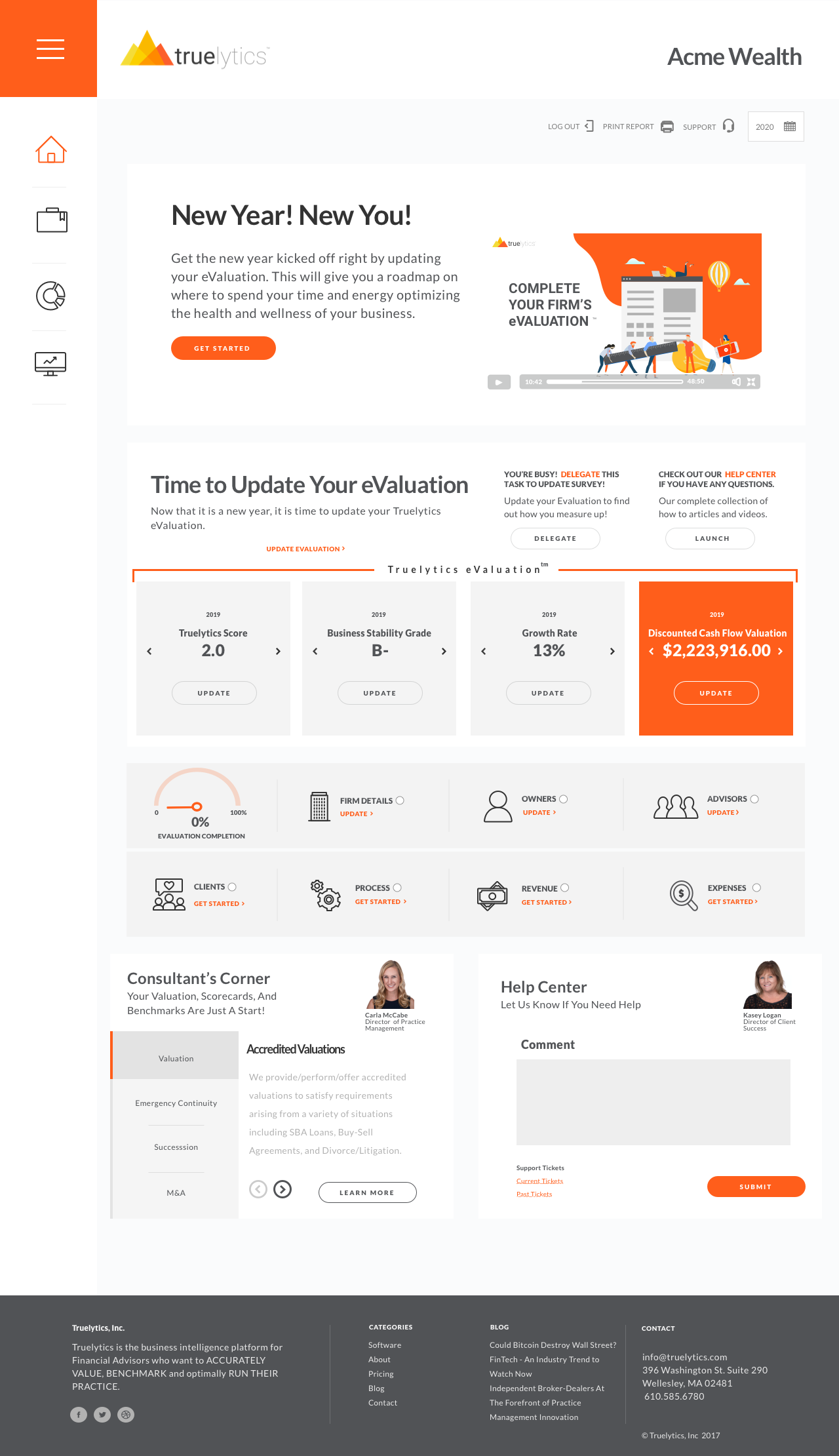 Keep your eyes and ears open for our next release. We are planning to introduce several new benchmark dashboards.
Check out our previous release announcements:
More articles related to: Truelytics