There are plenty of great new capabilities and enhancements in Truelytics 2.8 to keep everyone smiling. For Firm users, we've streamlined the 'process' intake form introducing a three-tab format while adding ''investment process' details to our questionnaire , improved the 'add firm team member' invitation process, made some user interface and security enhancements and automated the delivery of customized 'practice improvement' content. For Enterprise Users, we've released 25 new benchmark reports, refined the firm management 'stack rank' view, made several refinements to the branded 'white label' experience and extended the platform's data import and export capabilities. Without further ado, let's get to the details.
Truelytics 2.8 Quick Guide
New Process/Investment Tab - Firm Users
Inviting New User to Your Firm - Firm Users
Customized Email Content - Firm Users
Enterprise Benchmarks - Enterprise
Additional Updates - Enterprise
Enhancing the Process Process
Firm Users
When completing their eValuation, users will notice the Process tab in our questionnaire now has three tabs - Investment, Management and Technology. By simplifying and organizing the section in this manner users can more easily identify the purpose of each series of questions and the role they play in business optimization and value.
INVESTMENT MANAGEMENT
This more flexible approach allowed us to add a section on Investment Process, which we've been wanting to do for a long time. You can be sure that as more of you fill in this section, we'll be letting you know how your peers are managing the investment portion of their businesses (anonymously, of course). We can't wait to see the benchmark reports on this one!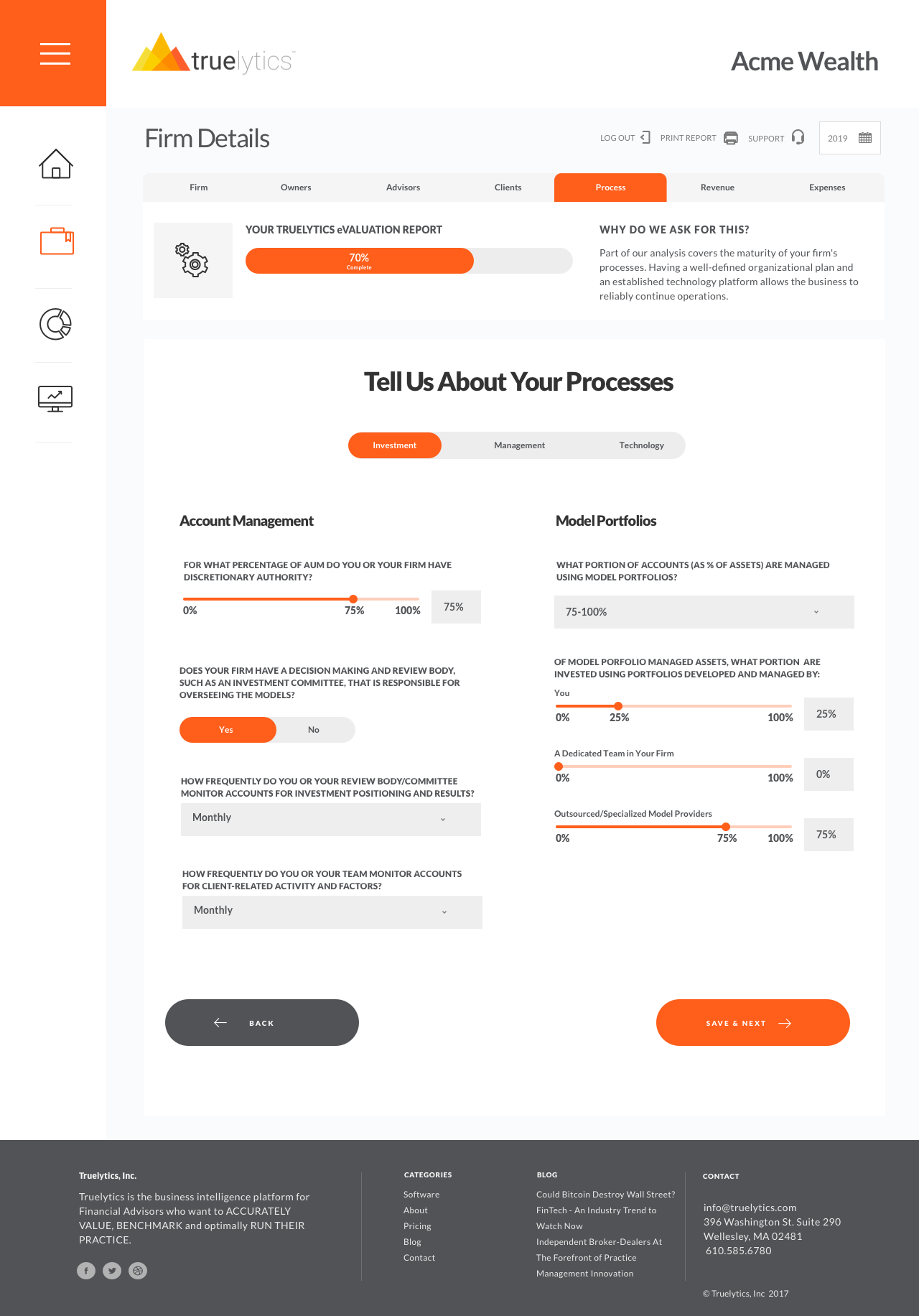 We've also split the original process questions from a single tab into separate Management and Technology tabs. These tabs are further organized into columns for ease of use: Risk and Governance, for the Management tab, and Advisory and Productivity for the Technology tab.
Making it Easier to Add Users to Your Firm
Firm Users
Adding on to the "Delegate!" functionality we rolled out a few months ago, we've added an automated, customized invitation email capability to streamline the process of inviting team members. Now when you are adding a new Team Member or Additional Advisor to your Firm, all you have to do is click the "Send Welcome Email" checkbox.



Upon saving, your colleague will receive an instant email invitation. The invitee will simply have to choose a password for themselves and log in.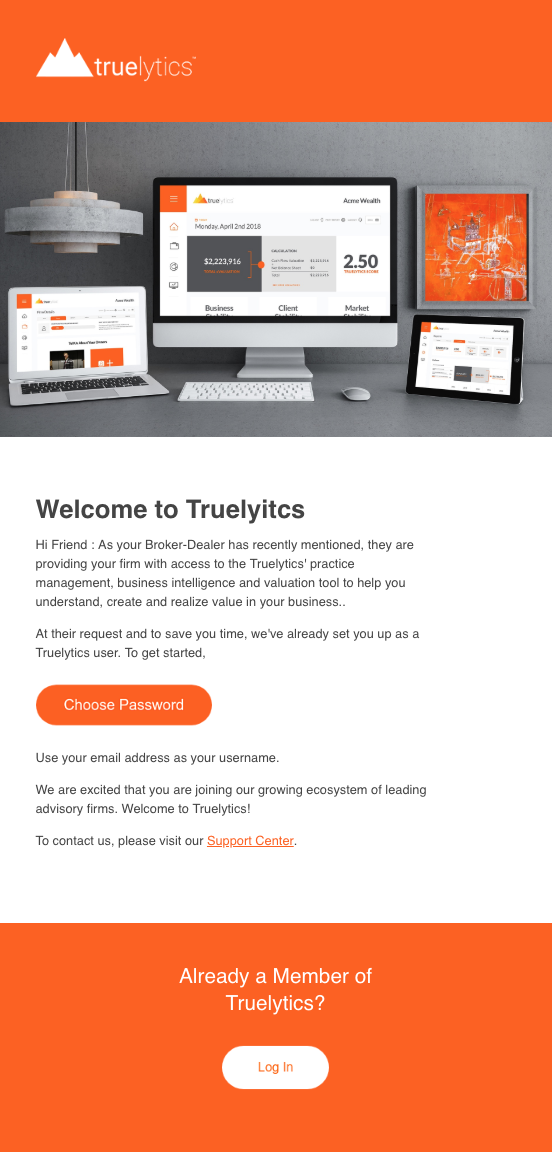 You can always opt not to send the automated email and choose a temporary password for your new user and invite them yourself. And remember, be sure to choose the right 'Role' for your colleague as it impacts which features they have access to.
Delivering Insights & Best Practices Straight to Your Inbox
Firm Users
Since our last release we've been busy developing and deploying a series of follow-up emails for every user that completes a Truelytics preEVAL or eValuation. Now, upon completion of a key milestone, you will receive a series of customized educational emails designed to help you understand your performance vs your peers and make the most out of your Truelytics experience.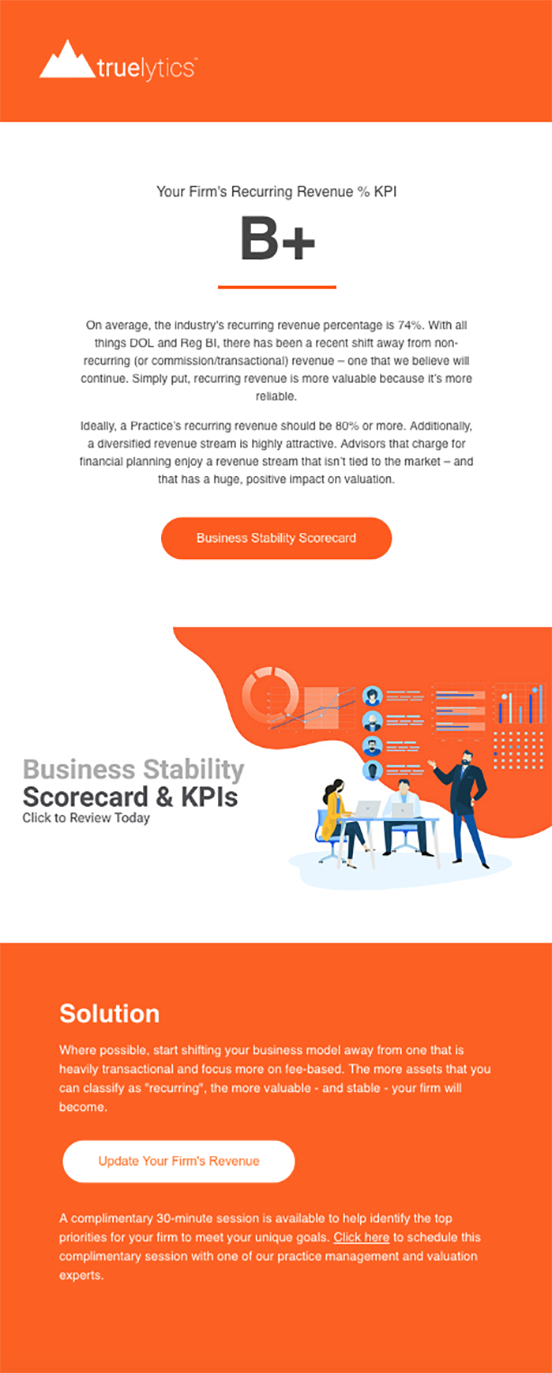 With over two dozen pieces of specialized content now being rolled out - from details on your Truelytics Score, to the importance of emergency continuity plans, to how to make sense of your EBOC ratio - the value you'll gain from Truelytics will keep on growing over time. Let us know if there are any specific insights you're looking for and we'll add them to queue!
New Enterprise Benchmarks
Enterprise Users
25 NEW PROCESS AND BUSINESS BENCHMARKS ARE NOW LIVE
There's nothing we like more than rolling out new benchmark reports that provide Firm and Enterprise users with insights into how their organizations are performing. This month we're excited to launch new 'Process' and 'Ratios' tabs in the Enterprise benchmarking section.
The Process tab has four subsections delivering Risk, Governance, Tech: Advisory and Tech: Productivity reports.
RISK BENCHMARKS
TECH STACK BENCHMARKS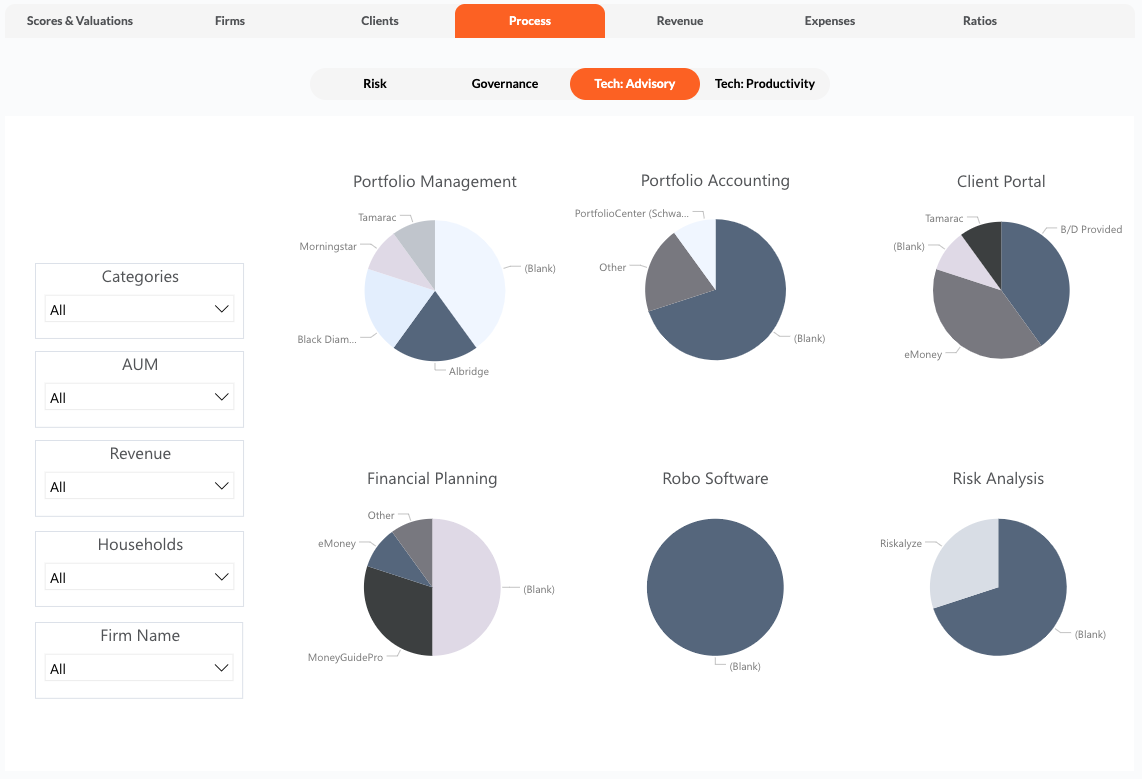 BUSINESS PERFORMANCE RATIO BENCHMARKS
In the Ratios tab, Enterprise executives will gain insights into how firms are performing with regard to EBITDA, EBOC, Income, Operating Expense and Return on Assets ratios, as well as compare AUM and Revenue per Household.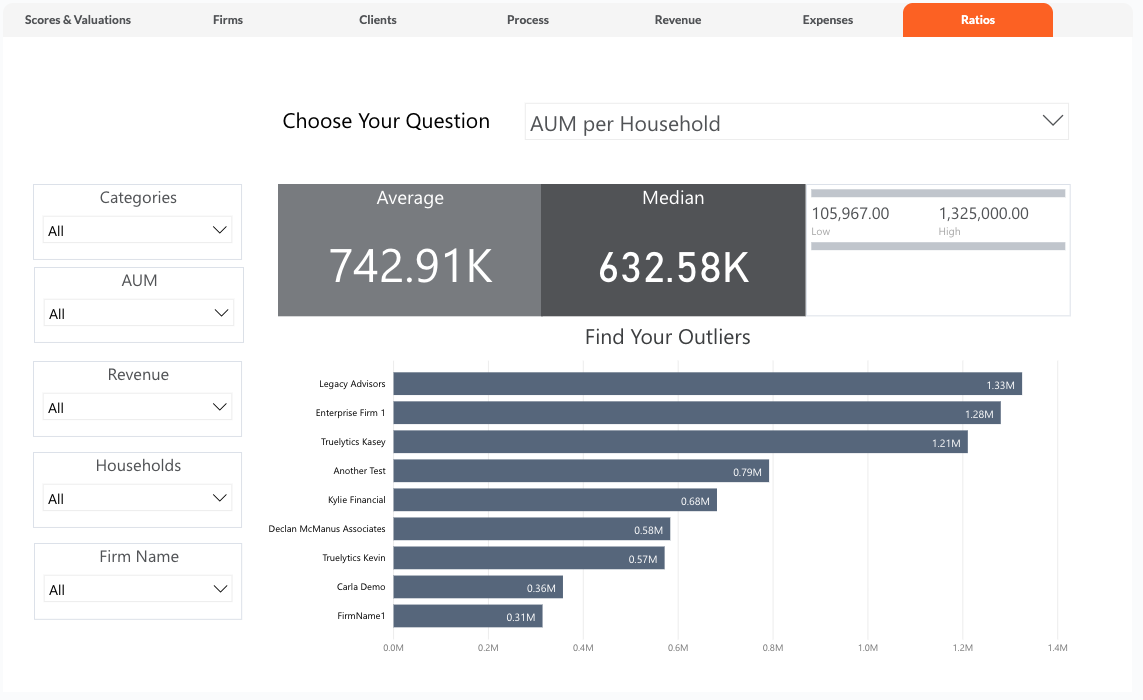 We're just getting going on the Benchmark front. Be sure to check back with Truelytics often to see what's new.
Improving Enterprise>Firm Management
Enterprise Users
With our Enterprise customers now managing thousands of firms in their Truelytics instance, we knew it was time to make the primary "Stack Rank" view a bit easier to manage. Now in addition to all the capabilities you are used to, like sorting firm progress by year, segmenting firms by category, reviewing history and details and impersonating firms, we've improved the initial sorting approach by putting firms that have completed their full eValuation at the top of the list.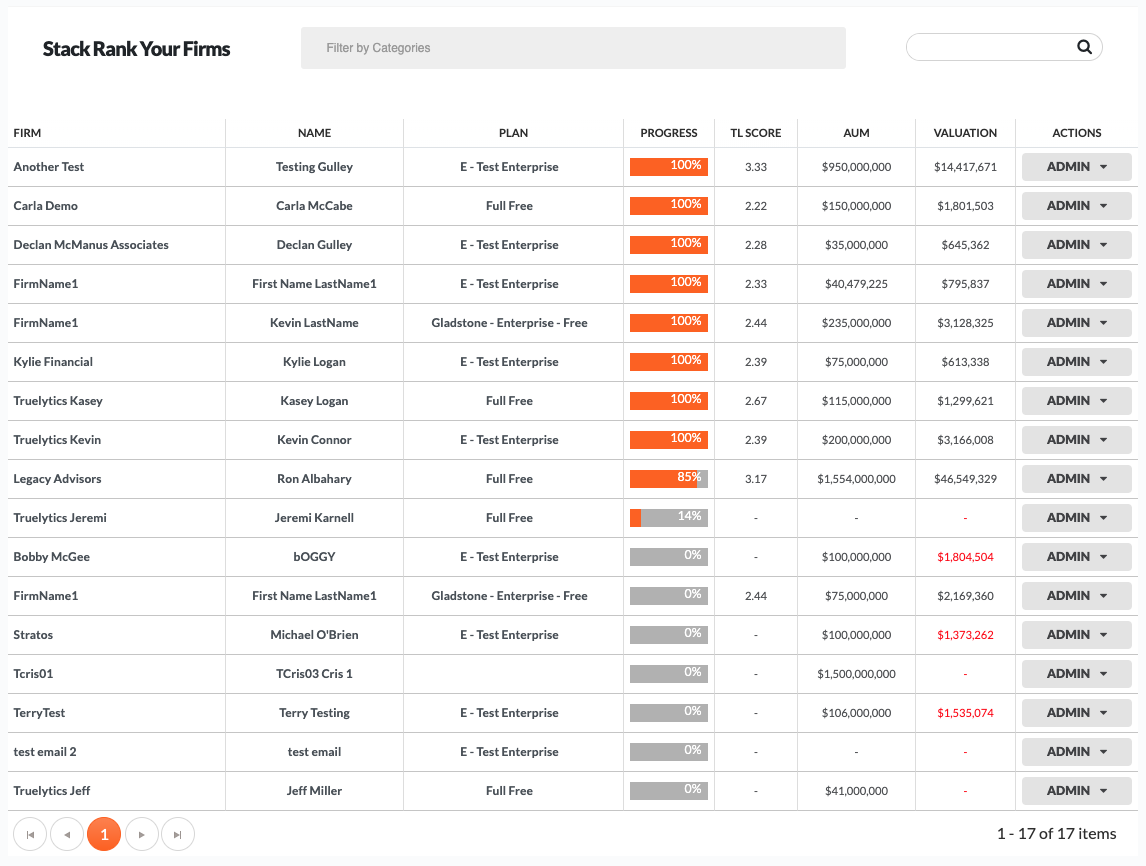 REMOVING FIRMS FROM AN ENTERPRISE
We've also added the ability for Enterprise Super Admins to 'Remove' firms from their enterprise if the firm has left your organization. Previously this could only be accomplished with the help of Truelytics support, but now it's as easy as clicking a button.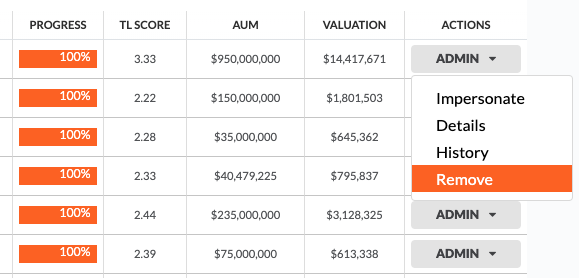 UI and Security Updates
All Users
We've made over a dozen small tweaks to the new preEVAL and eValuation dashboards from a User Interface (UI) perspective, enhanced some aspects of the enterprise-branded 'white label' experience and made some security refinements while we were at it.
WHITE LABEL UPDATES
We took care of a few issues we'd identified for users when they interact in an enterprise-branded UI, for example making sure that when they log out they stay in the branded experience.

We've also eliminated some inconsistencies in the registration and sign-in process for white label users.
SECURITY UPDATES
Believe it or not, one of the biggest risks to getting hacked is that many of us use the same passwords over and over, so if we're breached in one location, the hacker can get into a bunch of other applications using the same password (or set of passwords). To help protect our users, we've implemented a 'password history' feature, which prohibits users from reusing recent passwords when they update their password or use the 'forgot password' functionality. It's sort of a pain, but we're doing it out of love and to keep your data safer.
Data Integration Updates
Enterprise Users
IMPORT / EXPORT ENHANCEMENTS
Finally, we've made some updates to our data import and export process for our Enterprise users. In addition to some optimization work to accommodate larger data sets, we've added the ability to import and export 'categories' with the data. This will allow enterprises the ability to more clearly define users when provisioning them in the system, while also allowing them to do more specific data analytics.

Keep your eyes out for our next big release as we're going to be deploying another major feature.
Check out our previous release announcements:
More articles related to: Truelytics